Moving on from the story of the Golden Fleece, let's look at what happened to two of the Argonauts after the great adventure. Like Animal House, Greek Mythology had a tendency to do a little "Where are they now?" type myth.
After their Bogus journey with Jason, Castor and Pollux returned to their homes, but soon they had to save their sister Helen. Helen of course would be famed for being the "Face that launched a thousand ships" in the Trojan Cycle, but like Princess Peach, she had been captured before by a familiar face.
Damn it you Minotaur slaying son of a bitch, get your hands off our sister!
Yes between his adventures of fighting the Minos' bull/son and rotting in Hades for a couple of years; Theseus decided that he needed a queen. (
What Ariadne wasn't good enough for you Theseus?
) So pulling a Bowser, Theseus kidnapped Helen back to his kingdom in Attica.
When Castor and Pollux heard what had happened to their sister, they were hellbent to get her back; which would be something that Wolverine would do to save her "little sister". The twins lead an invasion of Attica and were not only able to take back Helen, but also like a RED Spy took Theseus' mother with them. (
Making Theseus the Scout in this story
)
The twins also placed Menestheus on the Athenian throne as a rival to Theseus, who was probably still crying that his mommy was being a made a slave in Sparta. Aethra, the mom, was forced to become Helen's slave, but would eventually be returned home by her grandsons Demophon and Acamas following the Fall of Troy.
Speaking of the Trojan War, you know that the Dioskouroi inadvertedly allowed Paris to kidnap their sister? It was all because of a feud with another set of twins which would make the Hatfield and McCoy family feud look like a mere brother sister slap fight.
Oh just because we are taking these babes forcefully it's rape?
The Twins had fallen in love with twins Phoebe and Hilaeira like Dean and Hank Venture lusting over the Quymn Twins. However, the Leucippides (
"Daughters of the White Horse" Who was the name of their father Leucippus
) were already betrothed to another set of twins from Thebes; Lynceus and Idas.
Castor and Pollux didn't really care about this and basically did what Theseus did; carrying away the sisters like King Kong back to Sparta. From this forced relationship, Phoebe gave birth to Mnesikles and from Hilaeira came Anogon.This is what began the feud between the four cousins, because as we all know; Greek families are more dysfunctional than the Simpson's.
Gods how did we fall for that old trick!
In Arcadia, the cousins decided to put that whole "you took our fiancees away from us" incident and decided to go on a family bonding experience that the Ancient Greeks liked to call Cattle Raiding. After the successful raid, they butchered, quartered, and roasted a calf like some sort of post-football game celebration.
As they went around passing the pieces of beef, the gigantic Idas suggested that they split the herd in two instead of four, based on which pair of twins could eat their meals the fastest. Castor and Pollux of course accepted the challenge and began a good old eating contest like that one episode of
Hey Arnold
.
The contest was quicker than a punch by Bruce Lee, because Idas quickly ate his meal and his brother's. Defeated and humiliated worse than if the Steelers lost to the Browns, they were in no mood to only keep half the herd, o they allowed their cousins to take the whole lot. However, the Gemini twins swore that they would gain their vengeance for this travesty like the aforementioned Steelers absolutely murdering the Browns later on the season.
Thank the gods Castor and Pollux are busy with their cousins, eh Helen?
A few weeks later, Idas and Lynceus visited their uncle in Sparta, but he was just about to leave for a trip to Crete. He left Helen in charge so you know what that means, a wild party not seen until the advent of teenage TV sitcoms! The guests included both Castor and Pollux plus a certain prince from Troy; who was planning to take Helen back home.
Seeing a chance to get revenge, Castor and Pollux came up with a good enough excuse to leave the feast. They planned to go to their cousin's farm and steal that herd they were duped out of. Eventually Idas and Lynceus decided to return home early, which left Helen alone with Paris and as they say, "The rest is history."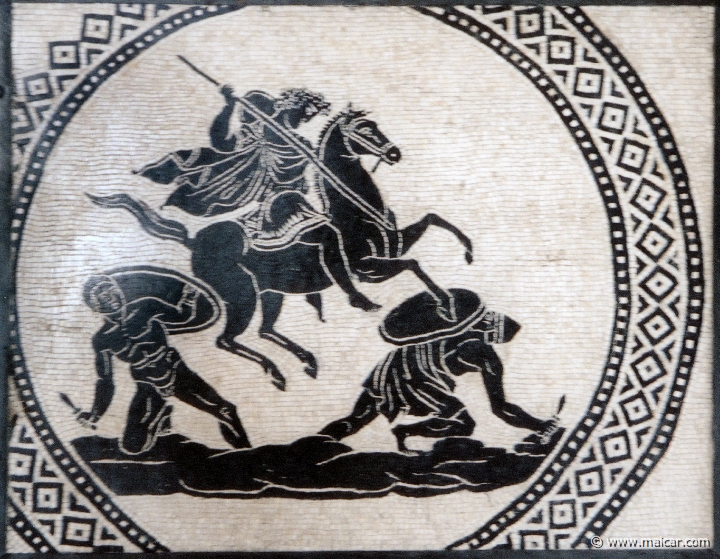 Why horse hovering, it has no wings!
Meanwhile, Castor and Pollux had reached their destination and began stealing the heard. While Pollux began to free the cattle, Castor climbed a tree and like a robber in heist, was left on lookout duty. Far away, Idas and Lynceus approached and Lynceus, who could see in the dark like Sam Fisher, noticed Castor up in that tree and told his brother what was going on.
Idas, furious as a bull, ambushed Castor and mortally wounded him with his spear, but Castor was able to give a warning to his brother before dying. In the ensuing brawl, Pollux was able to kill Lynceus and it was just Idas and Pollux to meet in a final showdown.
It was like Col Mortimer vs El Indio facing off in a duel to the death, but there too would be Man With No Name to tip the favor to Pollux. For just as Idas was about to strike down Pollux, Zeus came down with a lighting bolt in a Deus Ex Machina not unlike the ending to the Bad Seed.
You think we should get these protrusions checked out brother?
Nah.
After being saved by his father, Pollux rushed over to his dying brother to be with him, but Castor died in his arms like Eponine died in Marius' arms. As Pollux grieved over the death of his brother, Zeus pulled the booming god voice from the clouds Ala God from
The Ten Commandments
; and offered his son one of two things.
Either he could ascend to Olympus like Dr. Dave Bowman and remain there for all eternity, or he could give half his immortality (
Castor was the mortal son and Pollux was the immortal son
) to his brother. Not wanting to be separated from his brother for eternity, he chose the latter option.
And so the brothers alternated between Olympus and Hades, much like Peresophone. Finally, the brothers were reunited when they were placed into the heavens as the constellation Gemini. They became the two brightest stars and emblems for immortality and death. And so our story ends and I need a break from this so here is some classical music; I'll be taking a two week vacation before writing another blog.
Good old Classical music