Now as for today's blog, it is once again a case of me looking at the past blog and realizing, "Oops I dun goofed, herp a derp!" Because for some reason I like to start one story and then doing the next story about something that could have helped you the audience see the bigger picture for the story before. (I will not make this mistake in my attempts to make this blog into a video series, but that is a discuss for a later time)
Anyway, today's story is the origin of our dear old friend Dionysus. This is another one of those classic Zeus sees woman, Zeus rapes woman, Hera gets pissed off, Hera screws up said woman's life, and pop we got a new god crawling around. But believe me there is a disturbing example of body horror in this story and another TV trope. (but I'm not going to ruin the surprise for those who never heard this story)
It would not be wise to diss his hair style, unless you want a lightning bolt straight up your ass
In one version of the story (Because they have made ten thousand variations for this one myth probably) our woman is a Thebean princess named Semele and she was also a priestess of Zeus. One day Zeus was looking at the temple at Thebes, saw Semele sacrificing a bull, and watched as the blood splattered over her. (God knows what he was doing with his left hand)
Then Semele did something that would seal her fate in being a target for Zeus' already growing lust was what she did after the ceremony. (Random fun fact, ceremony takes its root word from the goddess Ceres... I think) Now remember that she was covered in sacrificial bull blood and had to wash it off, but how? Well the only thing she could do to cleanse herself of the blood was the River Asopus. (There are five in Greece and Turkey, this one is most likely Boeotian Asopus, which is right by Thebes)
Beautiful painting, but what the hell is going on?
Zeus, charming voyeur as usual, took the form of an eagle (subtle) and flew around over the naked princess and instantly fell in love. He went over to her in his human form and began "visiting" her in secret for an unknown period time. Soon the usual formula for Zeus' affairs began to roll along.
Why? Because Hera found about this "secret" (yeah I don't trust Zeus to make this affair quiet and discreet) affair when she noticed that Semele was pregnant and was bragging that Zeus had been boning her. (Not the smartest of moves considering she should know what Hera does to the women that Zeus has affairs with) Hera was mad and about to unleash a wave of hate towards the woman who no say in having a relationship with Zeus.
Yeah just make him reveal his true form, nothing could possibly go wrong
Hera went down to Thebes disguised as an old hag and waited for Semele to pass by her. Even do she was bragging about having a child of Zeus in her womb, no one in Thebes believed that Semele had coupled with the king of the gods. (Explaining why Dionysus came back to Thebes to vindicate her death) When Semele came by, Hera/crone befriended her rather quickly and soon Semele went on and on how Zeus was the father of her baby to be. This is when Hera unleashed her devious scheme.
She started to fill Semele with doubt that the man who she was with was truly Zeus and not some impostor saying that he was Zeus in disguise. Semele began to understand what the old woman that she just met was talking about, but she had no idea how to prove whether he was or not Zeus.
Coincidentally, the old woman had a plan and told her to make the person claiming to be Zeus to swear upon the River Styx to do whatever she wanted. After doing that, Semele was to then request that he reveal his true form. If he showed his true form, great she actually had sex with the king of the gods, if not, oh sorry you just got tricked, raped, and impregnated by a random stranger. (Much like Alcmene in that stupid Hercules movie that got played on the SyFy channel all the time five years ago that had Sam the Hobbit playing Hercules' lyre teacher) So with this, Semele set off to seek the truth and the bitter old hag turned back into a bitter old bitch.
Oh dear god this was a stupid plan, damn you old lady!
Semele made her way up back to her room and found Zeus was waiting for her and ready to get it on. However, Zeus was surprised that she had something to say. (A woman who doesn't want to have sex, but talk, this must have blown his mind. Especially since Semele was probably 14 at this time, but that was the norm back then so don't get creeped out)
She took the advice of that old crone who obviously was not a crazy coot and asked him that if he was truly the All-Powerful Zeus, that he would grant her a wish. Zeus of course, wanting to please his beloved, promised over the River Styx that he would do whatever she wished. Heeding the words of that hag, Semele requested that he reveal himself in all his godly glory so that she really knew that he was Zeus.
Zeus immediately begged her to take back the request, but because of the seeds of doubt that Hera had sown into Semele's poor head, she refused and told him again to reveal his true form. Because of her persistence and inability to break his oath to the River Styx, Zeus was forced to comply.
Even though it was hopeless, Zeus still tried to spare her by showing her just the smallest of his bolts and the sparsest thunderstorm clouds he could find. However, mortals could not look upon Zeus in his true form without incinerating so she perished, consumed in lightning-ignited flame. And to demonstrate this here is an obligatory scene from Raiders of the Lost Ark:
Damn it Youtube! Give me a good quality video of this scene!
But what of the baby that was inside Semele? Well this is where that second trope that I was talking about in the beginning comes to play. Zeus became a case of a Mr. Seahorse! Yep Zeus took the nearly fully developed fetus out the now charred remains of Semele and stuffed the fetus down into his own thigh! Oh and he did this all with his BARE FUCKING HANDS! (Still probably not as painful as when Athena was born, now that was a headache! BA-ZING!)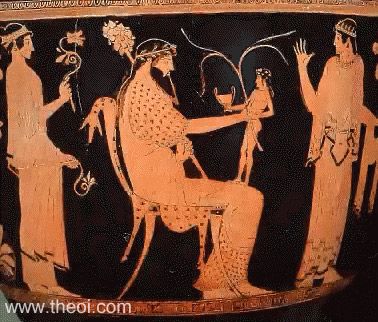 Wait why are you a mini adult? I am confused.
And so a few months later little Dionysus was born from the thigh of Zeus and like Athena was a fully grown adult. (His thigh origin would become the basis for his epithet "Eiraphiotes" which means "insewn") Eventually, Dionysus would not only clear the name of his mother as discussed in the previous entry, but was also able to go to the Underworld, confront Hades, and take his mother from the land of the dead to the palace of Olympus. It was there that she herself became a goddess named Thyone, who presided over the madness that was caused by her son.