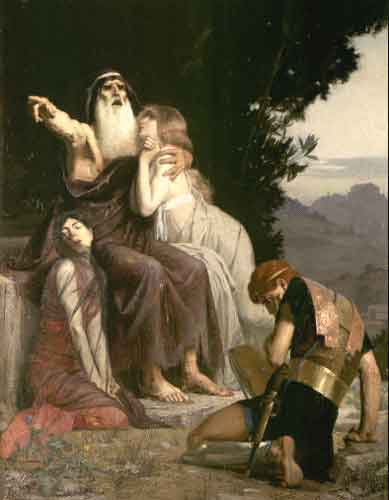 You think you have problems son, tell me this when you find out that you murdered your father and married your mother!
Remember Oedipus? You know the dude who killed his dad and had unknowing sex with his mother? Well as should be expected he did not take this news well when it was revealed to him and I told you that he blinded himself and lived the rest of his life in exile, but what I didn't tell you was that he cursed his sons. Before he left to ultimately die in Colonus he cursed his sons to divide their inheritance (the kingdom of Thebes) by the sword.
You said it would be my turn!
The two brothers, Eteocles and Polynices, decided to rule the kingdom in alternating years. Eteocles would rule for the first year, but as his shift began to end he made a bold decision. When Polynices came to begin his year long reign, Eteocles refused and told him to go fuck himself and that he was king of Thebes. He then expelled his brother by force and poor Polynices ran in exile to Argos under the protection of King Adrastus. At the same time another prince who was exiled for murdering his uncle (or was it his brother?) anyway his name was Tydeus, son of Oeneus (king of Calydon). The two met and got in quarrel resulting in a fight. Polynices carried a shield with a lion that represented his father's expulsion of the sphinx, while Tydeus' had a boar on his shield to represent the Calydonian boar hunt. King Adrastus looked down at the sparring princes and realized that these were the two men that he had received from a seer's vision. He then immediately came down and stopped the fight and offered his daughters to the exiled princes in exchange for helping them take over their respective kingdoms.
We are the fabulous seven!
Polynices would marry Argeia and she would give him a son named Thersander while Tydeus would marry Adrastus' other daughter Deïpyle who would give birth to Diomedes (yes the same guy from the Trojan War). Now Adrastus needed to get an army and some allies, but he hit a snag early on with his brother-in-law Amphiaraüs. You see Amphiaraüs was not only a warrior, but also a seer and he knew that this expedition was futile since it was decided that only Adrastus would make it out alive. So needless to say Amphiaraüs did not want to be involved in this war, but the king of Argos had an ace up his sleeve and destiny would not allow Amphiaraüs to escape his fate. The two had agreed after a past argument that Adrastus' sister and Amphiaraüs' wife, Eriphyle, would decide any future quarrels between the two kings. Wishing to gain her favor and the edge over Amphiaraüs , Polynices presented Eriphyle the famous necklace of Harmonia as a bribe for her support to Adrastus. She accepted despite the fact that the necklace was cursed to all those who owned it and Amphiaraüs had no choice, but to support Adrastus with his leadership and an army. Amphiaraüs would, as he began to leave, make his sons, Alcmeon and Amphilochus, promise to avenge his death upon both the Thebans and his wife.
Adrastus and Amphiaraüs raised the Argive army, and five other Argive
leaders joined the rank: his brother Mecisteus; Capaneus, son of Hipponoüs and Astynome; his cousin or nephew(Greek mythology, you'll never know who is your cousin or nephew ever again!)
Hippomedon (Ἱππομέδων); and Eteoclus (Ἐτεοκλυς), son of Iphis.
Parthenopaeüs, the son of Talaus, which would also make him the brother of
Adrastus. Tydeus also agreed to join them, provided that Adrastus helped
him later in Calydon. It is funny to note that neither Polynices nor Tydeus were technically apart of the Seven Champions since they were foreigners.
Ha! You are not the only force with seven champions!
The Argive army had stopped at Nemea for water and encountered a
nurse and the infant Opheltes. As the nurse left the infant in the crib
outside, she showed the Argives where the spring was. The infant died
from snakebite. Amphiaraüs saw this as the doom of the
expedition. They held funeral games for infant that became known as the
Nemean Games. (Such a fun way to create a ceremony, dead babies)
When they arrived in Thebes, Adrastus send Tydeus into the city as embassy. Tydeus demand Eteocles
to surrender and challenged any Theban to single combat. He defeated every Theban who faced him. Eteocles sent fifty men to ambush Tydeus outside the city, but Tydeus killed them all except Maeon. (man this guy is badass, I guess Diomedes took a lot from his daddy than his mother) Maeon was to
tell Thebes and their king what had happened.
In Thebes, Tiresias announced that Thebes would fall, unless Menoeceus, son of Creon,
sacrifice himself to Ares. Creon refused to allow anyone to kill his
son, but Menoeceus having overheard the prophecy, killed himself, so
Thebes would win the war. (That's teen angst for you, will find any excuse to commit suicide like saving your city from being destroyed)
When fighting began, each Argive leader attacking one of the
seven gates of Thebes. But each gate was defended by Theban champion.
Astacus, a Theban noble, who had four sons, named Amphidocus,
Ismarus, Leades and Melanippus. Each of his sons was more than a match
for the Argive heroes. And there was Periclymenus, the mighty son of Poseidon.
Wow, should have saw that coming
Capaneus, who was the first to breach the wall, boasted that not
even Zeus could prevent him from burning the city. Zeus killed Capaneus
with a thunderbolt for this impious boast. The Theban Melanippus had
killed Mecisteus, while Hippomedon was killed by Ismarus, and Eteoclus
was slain either by Leades or his brother Megareus. Parthenopaeüs was killed either by Periclymenus or Amphidocus.
Turns out Tydeus was a zombie, who knew?
Tydeus managed to kill Melanippus, but he was fatally wounded in the encounter. The goddess Athena
would have saved his life and made him immortal because she was his
favourite, but Amphiaraüs duped the hero into devouring Melanippus'
brains, thinking that it would heal his wound. When Athena returned with
drug to heal she saw Tydeus devouring his enemy' brains, the goddess
was horrified. Disgusted by the sight, Athena left Tydeus to die. (lesson: never listen to people who see into the future)
Well this is going to suck
Periclymenus pursued Amphiaraüs, each in their own chariots. Zeus realizing that Periclymenus was about to hurl his spear at Amphiaraüs' back. Because Amphiaraüs was his favorite seer, the god took pity on
the seer. Zeus split opened the earth in front of the chariot,
swallowing Amphiaraüs and his charioteer alive. (Not sure if this is giving pity on someone big guy, but you have a lightning bolt so I'll shut up).
Well this sucks even worse
Polyneices and Eteocles faced one another in single combat. On this fateful day,
Oedipus' curse was about to fulfilled. They fought and died from each
other's sword.(Oh the irony!) In Aeschylus' play, Seven Against Thebes, Eteocles
went to defend the seventh gate, and knew that he would die by his
brother's hand, as he knew from the prophecy that he would slay his own
brother. Rather than avoid his fate and be branded as a coward, Eteocles
chose to meet his death with his brother. (so he at least showed some honor unlike another prince *cough* PARIS *cough*)
The Argive army was destroyed. The only surviving Argive leader, Adrastus, fled upon his immortal horse Arion, to Athens. But at least he didn't need to try to take back Calydon!
Next week's blog should be about the revenge of these fallen champions this will be about the Epigoni and the Second Thebean war, because as we all know war... war never changes (only the victors or losers and sometimes the victors can stay the same)