Ha! You thought when I said I was going to talk about Diomedes you thought I was referring to the moment from Books V-VI in the Iliad where Diomedes does stuff that makes Kratos look like an even more bigger pussy and was too epic for them to put in that god awful Troy "reimagining" in 2004. But guess what?
No what I'm taking out comes from Book X of the Iliad and it includes Odysseus as he and Diomedes do some spy work in the dead of night. First, though I think I should give you some backstory on the awesomeness that is Diomedes.
Greek heroes, so badass that they did not need to wear clothes.
Diomedes was the youngest of all the Achaean kings in the Trojan War. Son of Tydeus, who was one of the generals who led in the famous Seven Against Thebes expedition where he was mortally wounded. Diomedes would go on to succeed his grandfather's kingdom in Argos. What you need to know about Diomedes is this: he's as tough as Achilles, but without the whiny behavior problems. And for someone so young, he had the most military experience from fighting in the Epigoni war (a story for another time), he had more experience than Nestor who was the oldest of all the Achaean kings. So here we go with the story of the secret spy mission with Diomedes and Odysseus.
Diomedes is already ready for some action!
Our tale begins in the dead of the night and the chief commanders of the Achaean forces, Agamemnon and Menelaus want to prepare for tomorrow's battle. So they went around the camp and rounded up their principal commanders: Odysseus, Ajax (the Greater), Nestor, Idomeneus (king of Crete), and Diomedes. While most of the other other kings were still asleep in their tents, they found Diomedes, outside his tent clad in his armor sleeping upon
an ox skin, already well-prepared for any problem he may encounter at
night. It was during the ensuing Achaean council that Agamemnon asked for a volunteer
to spy on the Trojans. Again, it was Diomedes who stepped forward. (this guy sure is a team player)
Diomedes would then stand up and declared, "If another will go with me, I could do this in greater confidence
and comfort. When two men are together, one of them may see some
opportunity which the other has not caught sight of; if a man is alone
he is less full of resource, and his wit is weaker." These words
inspired many other heroes to step forward. Agamemnon put Diomedes in
charge of the mission and asked him to choose a companion himself. The
hero instantly selected Odysseus for he was loved by Athena and was
quick witted. Although Odysseus had deserted Diomedes in the battlefield
that very day, instead of bashing him, the latter praised his bravery
in front of others. (Wow you wouldn't see Achilles doing that) Odysseus' words hinted that he actually did not wish
to be selected. But the Trojan's were planning a similar plan in their camp.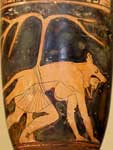 I'm going to get me some magical horses!
In the similar council held by Hector, not a single prince or
king would volunteer to spy on the Achaean Camp. Finally Hector managed to send
Dolon, a good runner, after making a false oath (promising him Achilles'
horses after the victory). [And so Dolon cemented himself in Western Culture as one the biggest and most gullible fools to come out in Western Literature]
Dolon going to get raped yo
On their way to the Trojan camp, Diomedes and Odysseus discovered
Dolon approaching the Achaean camp. The two kings lay among the corpses
till Dolon passed them and ran after him. Dolon proved to be the better
runner but Athena infused fresh strength into the son of Tydeus for she
feared some other Achaean might earn the glory of being first to hit
Dolon. (Wow you can sure be a picky one Grey Eyes) Diomedes threw his spear over Dolon's shoulders and ordered him
to stop. (I bet any of us would do the same in this situation when the guy who has caused GODS to shriek in pain tells you to stop)
Dolon gave them several valuable pieces of information. (Hector didn't think to get a mute fast runner, but then again how would a mute spy relay info) According to
Dolon, Hector and the other councilors were holding conference by the
monument of great Ilus, away from the general tumult. In addition, he
told about a major weakness in Trojan army. Only the Trojans had
watchfires; they, therefore, were awake and kept each other to their
duty as sentinels; but the allies who have come from other places were
asleep and left it to the Trojans to keep guard. It is never explained
in the epic why Dolon, specially mentioned as a man of lesser
intelligence, came to notice this flaw while Hector (in spite of all his
boasting) completely missed/ignored it. (Hector 0 Hick Runner 1)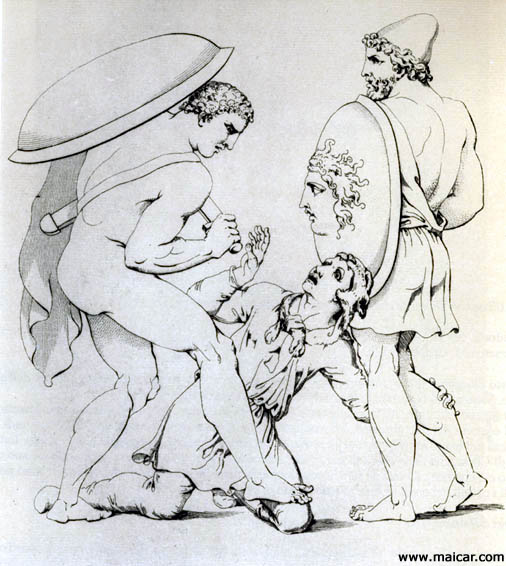 Yeah it still looks like you are going to get raped Dolon
On further questioning, Diomedes and Odysseus learnt that among the
various allies, Thracians were the most vulnerable for they had come
last and were sleeping apart from the others at the far end of the camp.
Rhesus was their king and Dolon described Rhesus' horses in this
manner; 'His horses are the finest and strongest that I have ever seen, they are whiter than snow and fleeter than any wind that blows'.
Having truthfully revealed valuable things, Dolon expected to be
taken as a prisoner to the ships, or to be tied up, while the other two
found out whether he had told them the truth or not. But Diomedes told
him: "You have given us excellent news, but do not imagine you are
going to get away, now that you have fallen into our hands. If we set
you free tonight, there is nothing to prevent your coming down once more
to the Achaean ships, either to play the spy or to meet us in open
fight. But if I lay my hands on you and take your life, you will never
be a nuisance to the Argives again." Having said this, Diomedes cut off the prisoner's head with his sword, without giving him time to plead for his life. Sweet that means I can post this:
Or even better this:
As you can see I love Brutal Legend
Hey Diomedes look at what I got!
Although the original purpose of this night mission was spying on the
Trojans, the information given by Dolon persuaded the two friends to
plan an attack upon the Thracians.They took the spoils and set them upon
a tamarisk tree in honor of Athena. Then they went where Dolon had
indicated, and having found the Thracian king, Diomedes let him and
twelve of his soldiers pass from one kind of sleep to another; for they
were all killed in their beds, while asleep. Meanwhile, Odysseus
gathered the team of Rhesus' horses. Diomedes was wondering when to
stop. He was planning to kill some more Thracian and stealing the
chariot of the king with his armor when Athena advised him to back off
for some other god may warn the Trojans. (So she was like "get your shit together and get the fuck out of there!")
Come on Diomedes, let's get out of here!
This first night mission demonstrates another side of these two kings
where they employed stealth and treachery along with might and bravery
but more importantly fulfills one of the prophecies required for the
fall of Troy: that Troy will not fall while the horses of Rhesus feed
upon its plains (According to another version of the story, it had been
foretold by an oracle that if the stallions of Rhesus were ever to drink
from the river Scamander, which cuts across the Trojan plain, then the
city of Troy would never fall. The Greeks never allowed the horses to
drink from that river for all of them were stolen by Diomedes and
Odysseus shortly after their arrival). These horses were given to king
Diomedes.
According to some scholars, the rest of Thracians, deprived of their
king, left Troy to return to their kingdom. This was another bonus of
the night mission. And so ends our story about the spying deeds of Odysseus and Diomedes, but this would not be the last time the two would work together in the night, but that my friends is a story for another week.