So after that deluge on the founding of Thebes, I want to finish the story of Oedipus. A tale so messed up that it inspired Sigmund Freud to invent the term Oedipus Complex which is as Wikipedia puts it: "is a group of largely unconscious (dynamically repressed) ideas and feelings which concentrate on the desire to possess the parent of the opposite sex and eliminate the parent of the same sex."
Now after that useless bit of information (Well actually that is a bit helpful in understanding the context of this mindfuck of a tale) anyway lets recap the events so far with pictures (Yay! Pictures make Bomar happy!)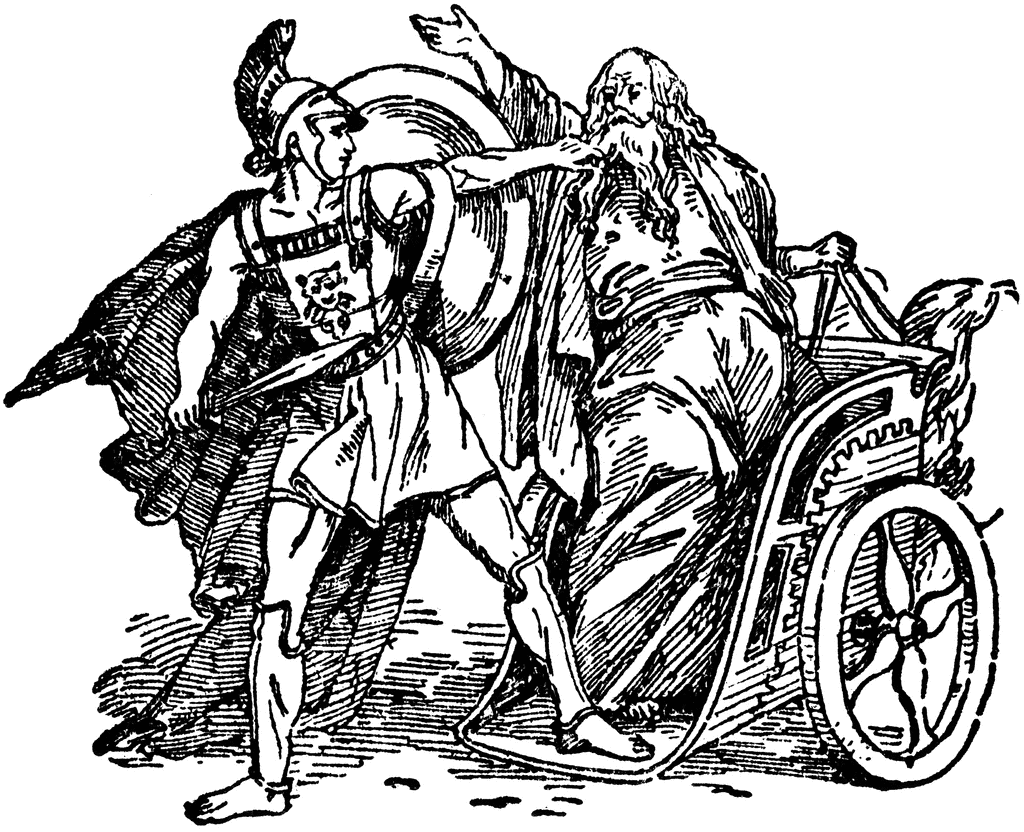 Son grows up and unknowingly kills father
Was able to solve the Sphinx's riddle
And became King of Thebes while obliviously marrying his own mother
So I hope that clears things up about our story so far, but I digress. Anyway after he was named king of Thebes since the cityfolk believed their king to be dead after searching for the answer of the Sphinx's riddle, Oedipus married Jocasta and they had four kids: Antigone, Ismene, Eteocles, and Polynices. Fastforward many years later in their reign and a terrible plague of infertility stricken Thebes. Crops stopped growing, women stopped having children, and livestock started to starve to death. In his hubris, Oedipus declares that he is going to find a cure to this horrible disaster. He sends Creon, Jocasta's brother, to the Oracle at Delphi, seeking guidance. When Creon returns, Oedipus hears that the murderer of the former King Laius must be found and either be killed or exiled. (So Oedipus is going to pull an OJ here?) Creon suggested to the king to meet with the blind prophet Tiresias in order to find the true identity of the murderer.
Yeah you may not want to know who is the killer
When the prophet was summoned, the blind seer warned Oedipus to not search for the killer. In a heated exchange, Tiresias is provoked into exposing Oedipus himself as the killer, and the fact that Oedipus is living in shame because he does not know who his true parents are. Oedipus blames Creon for Tiresias telling Oedipus that he was the killer. (Yeah how dare you bring in the psychic here to blame me for your father's death) Jocasta enters and tries to calm Oedipus. She tries to comfort him by telling him about her first son and his supposed death.(Wow that sure is ironic) Oedipus becomes unnerved as he begins to think that he might have killed Laius and so brought about the plague. Suddenly, a messenger arrives from Corinth with the news that King Polybus (you know the guy who basically raised Oedipus) has died. Oedipus is relieved concerning the prophecy, for it could no longer be fulfilled if Polybus, whom he thinks is his father, is now dead. (Oh thank gods my father is dead)
Man my entire life turned out to be really fucked up
Nonetheless, he is wary while his mother lives and does not wish to go. To ease the stress of the matter, the messenger then reveals that Oedipus was, in fact, adopted. Jocasta, finally realizing Oedipus' true identity, begs him to abandon his search for Laius's murderer. Oedipus misunderstands the motivation of her pleas, thinking that she was ashamed of him because he might have been the son of a slave. Jocasta then goes into the palace where she hangs herself.(Yep it wouldn't be a Greek tragedy without good old shame driven suicide) Oedipus seeks verification of the messenger's story from the very same herdsman who was supposed to have left Oedipus to die as a baby. From the herdsman, Oedipus learns that the infant raised as the adopted son of Polybus and Merope was the son of Laius and Jocasta. (Oh God, Oh Man, Oh God, Oh Man!!!)
Meh eyesight, who needs them?
And so the story ends like this Oedipus goes in search of Jocasta and finds she has killed herself. Using the pin from a brooch he takes off Jocasta's gown, Oedipus gouges his eyes out. Oedipus asks Creon to look after his daughters, for his sons are old and mature enough to look after themselves, and to be allowed to touch them one last time before he is exiled. His daughter Antigone acts as his guide as he wanders blindly through the country, ultimately dying at Colonus after being placed under the protection of Athens by King Theseus. (Man these Greeks sure loved the cheery feel good endings) Anyway that is the story of Oedipus and I think we all learned an important lesson: don't kill your father and marry your mother because you'll end up blind.