Now we have reached the half way mark between Heracles' now 12 Labors. Now Eurystheus sent Heracles to Arcadia to kill an infestion of birds, only these birds were giant, bronze beaked, metallic feathered, man eating birds that had toxic dung! They resided in Lake Stymphalia and thus were dubbed the Stymphalian Birds. So Heracles strung his bow and began his journey to the once fertile lake.
If it bleeds, we can kill it
A little more background about the birds, apparently they lived farther east and migrated because the local Arabs sicked there pack of wolves at them. (How do metallic flying birds get so afraid of normal wolves?) Anyway they made their new home at the swampy Stymphalia and began to breed like crazy and started to eat everthing. They ate all the crops and the fruit trees in the fertile farmland, but they loved to eat humans.
Now how did they kill their prey, well if you have ever played the Atlantean Faction in Age of Mythology: Titans you would know, but for those unfortunate souls who have not I will tell you. You know how these birds have metallic feathers? Yeah they shoot them out and impale whatever poor bastard they decided to have for breakfast. Also it should be noted that while their feathers and beaks are bronze, they could still be killed unlike the Nemean Lion.
They were also poorly rendered apparently
When Heracles arrived, he had a problem at his hands, how to kill these birds quickly without getting impaled and eaten. That is when he got some divine help. Athena came down with a gift, a bronze rattle (or a pair of bronze castanets) that were forged by the lame smith himself.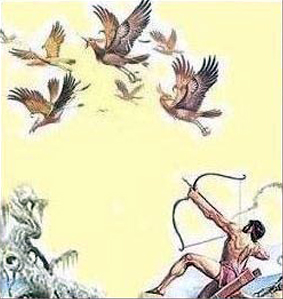 Duck Hunt the Hellenistic Mod
Heracles climbed a nearby mountain a began to shake the bronze rattle, creating a noise so terrible that the birds started to fly away. Heracles then got out his bow and began shooting down all the birds with his venom laced arrows. Finally the Stymphalian Birds were extinct and would no longer be a threat for mankind.
Meanwhile in another universe, Heracles M makes a powerful new enemy
And so Heracles returned to the stunned Eurystheus (who at this point should stop being stunned) and awaited for his next labor.
And now for something epic
RIP Ensemble Studios 1995-2009
Next Up: Part 7!