You know last time we were talking about Glaucus and Diomedes, I realized that I have not told the famous tale of Bellerophon slaying the Chimera, so here it is.
Our hero Bellerophon was actually not the bastard son of Zeus or Poseidon, but the son of Glaucus (guess it's a family name or something) and was the grandson of Sisyphus (you know the boulder rolling guy in Hades?) He did not stay long in his father's kingdom, for he was sent into exile for murdering either his brother (the Remus effect) or a shadowy figure (just roll with it). He arrived at Tiryns as a suppliant (someone who begs for forgiveness) to ask Proetus, the king at the time, to cleanse him of his crime. Being a king, Proetus was able to do this because he was a king, but the bad luck bug would hit our hero once again.
The wife of Proetus, Stheneboea (Man that is a mouthful), fell into a deep lust for the young man and attempted to seduce him, but in a surprising move from a Greek hero, he rejected her advances. Needless to say, she was pissed, so she told her husband that Bellerophon that had raped her. Proetus did not wish to satisfy his anger by murdering Bellerophon, (wow a person who is not a sadist in Greek Mythology!) and told the young man to go by the plain near the River Xanthus in Lycia to meet with his father-in-law and Stheneboea's father. He would then have to hand him this sealed tablet that had the following message: "Pray remove the bearer from this world: he attempted to violate my wife, your daughter." (Oh this is going to go over well)
So yeah, your daughter was very nice to me
However, when Bellerophon arrived to Iobates (forgot to give you his name :P) city, the man was treated like a guest by the king and as such was allowed to eat and drink in the king's palace for NINE DAYS before Iobates ever bothered to read the tablet concerning Proetus' wishes. When he eventually did read that little message, he was faced with a predicament. It was taboo in the Greek culture to murder your guests and the punishment was quite severe for the Furies themselves would fly from Tartarus and torment you with their thorny whips until you eventually died. On the other hand, his guest is accused of raping his daughter so he had to act. He gave his guest a task he deemed impossible, slay the firebreathing abomination known as the Chimera.
What is a Chimera you might be asking? It's this!
Er, wrong Chimera
That's more like it!
The Chimera is the spawn of the unholy mating of Typhon and Echidna who also sired Cerberus and the Hydra. It had the body of a lion, a tail that was actually a snake, and for some reason a goat head in the middle. All three of the heads could shot out fire by the way. This indeed would be a tough task for our young hero, but he would do the wise move that all heroes should do, consult an oracle (technically a seer in this tale).
If that guy was lying to me, I hope I can get a refund!
He consulted the seer of Lycia Polyeidos who told him that he had to sleep in the temple of Athena if he ever wished to defeat the Chimera. Heeding the advice, he did sleep in the temple and in his dream the goddess appeared with a golden bridle and said, Sleepest thou, prince of the house of Aiolos? Come, take this charm for the steed and show it to the Tamer thy Father as thou makest sacrifice to him of a white bull." (so it turns out that I was wrong, Bellerophon was a bastard son of Poseidon). When he awoke he found the bridle lying beside him. He then consulted Polyeidos who told him that he had to tame the winged horse Pegasus which could be found drinking from a well outside the citadel of Corinth (the city of Bellerophon's birth). When he arrived at the well he saw the pearly white steed sipping from the never failing spring of Pirene. Bellerophon was able to sneak around the steed before placing the golden bridle upon its back and jumping on the wild horse. After fighting with the steed, he was finally able to tame it and he was finally ready to slay the Chimera.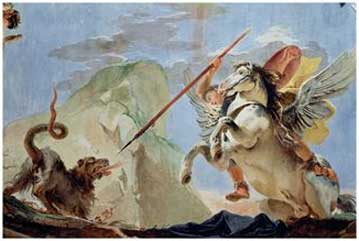 Eat lead!
Even though he was riding a winged horse, the Chimera was not easy to slay. For even though he had the advantage of flight, Bellerophon was unable to wound his quarry with his spear. Retreating, he soon came up with an ingenious idea, he placed upon the tip of his spear a lump of lead and when he returned to face the beast he lodged that lead right into her (oh did I mention that the Chimera was a she) throat and the fire in her throat melted the lead and poisoned the monster and fell dead. Was that enough to let Bellerophon off the hook? No it wasn't because Iobates sent him on missions to defeat a tribe of warriors, then the Amazons, and then a pirate. It was after Poseidon "persuaded" Iobates to stop it that Iobates did forgive the young hero and he was offered with the king's youngest daughter who bore him a son which would lead to the Glaucus that we met last blog.
I did it for the Lulz
Was all this enough for the young Bellerophon? No, because you see as his achievements grew, so did his hubris and he attempted to do the thing that no mortal man had tried before, fly to Olympus. He nearly made it too, but as Zeus saw the proud hero try to fly to his domain he sent forth a gadfly which stung Pegasus, which in turn bucked Bellerophon off and to fall back to Earth. Pegasus would make the trip to Olympus and become the royal steed to carry Zeus' thunderbolts. Bellerophon however, would land on a thorn bush and would live out the rest of his years as blind, crippled, recluse the fate of all those who try to accomplish something so arrogant. (You just got love the Greeks and there depressing myths)