So on what would have been Heracles' last task had Eurystheus not added two more deeds that he would have to overcome and gain redemption. So what task would the cruel Eurystheus give to his half-brother? Why obtaining the cattle of Geryon of course! Now this may seem simple enough at first since Heracles has brought a lot of animals alive back from far away distances, but when you look at what Geryon is and what he has to defend his cattle, you will see that this will be a worthy challenge for the son of Zeus.
So who is Geryon?
What that doesn't intimidate you, well how about-
this?
Geryon is the son of Chrysaor (who was born from the neck of the beheaded Medusa like Pegasus) and the Oceanid Callirrhoe, who was the daughter of the sea titan Oceanus. He is either depicted as either a two legged humanoid with three separate bodies or a six legged humanoid with three separate bodies and with a pair of wings. So yeah he is pretty bad ass since he also is a warrior, but wait it gets better, his guard dog is Orthrus, a two-headed hell-hound who is the brother of Cerberus, and Eurytion who is his herdsman while also being a son of Ares, so yeah this is definitely going to be a tough task for Heracles to accomplish.
Come on Eurystheus don't bullshit me
The first part of the quest was getting to where Geryon and his scarlet cattle grazed and since Heracles was without a map he decided to do the most rational thing, go through the Libyan desert without a horse or camel. At some point through this trek, Heracles got made at the sun for burning him like Angry Joe at Molossia. And like Joe, he decided the only way to solve this problem was with violence so he drew his bow and launched arrows at the chariot in the sky. Helios, god of the sun was impressed by Heracles boldness and gave the hero a gift, a giant goblet that he could use as a boat which would take him to the island
Erytheia
of the Hesperides, just west of Iberia. (and no I am not making this shit up)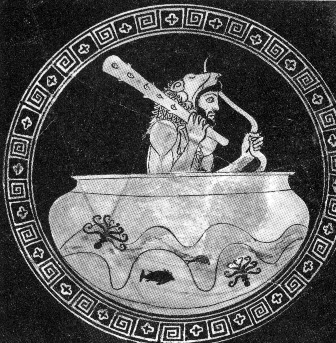 Told ya
As soon as Heracles landed on the "Red Island" Heracles was confronted by Orthrus, who looked like this.
Christ!
But fear not, with one swing of his club did Heracles slay the abomination that was wrought upon this world. However just as Heracles killed the guard dog, Eurytion came out to avenge his fallen friend, but like Orthrus Heracles slayed the son of Ares with one swipe of the mighty olive tree club. Having heard the commotion, Geryon sprung up and went to investigate, carrying three shields, three spears, and three helmets.
Oh yeah some epic shit is going down!
Heracles was chased by the giant deformed warrior until they reached the river Anthemus and Heracles said "Fuck this, eat poison arrow bitch!" and he shot a single arrow straight through the central skull of Geryon, killing him instantly. Now all Heracles had to do was return with the herd, but that would take longer than he expected.
Can you leave me alone
When Hera saw how her enemy so easily defeated Geryon and his minions, she decided to wreck Heracles' easy trip home, by sending a gadfly which scattered all the cattle all over Europe! It took Heracles one year to reclaim the herd, but Hera was not done yet. She raised the level of a river so much that the cattle could not pass, so Heracles had to pile up stones until the river became shallow once again. And finally after all that Heracles gave the cattle to Eurystheus who sacrificed them to Hera. (how ironic)
It turns out Geryon's family tree continued through the middle ages